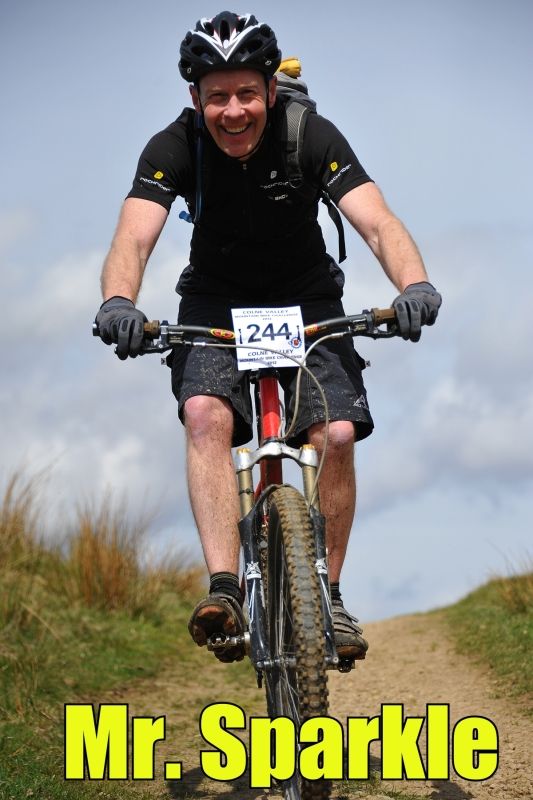 Yeah, it's been a while I know. Reet, I'm going to break it down into 3 areas.
1. Running
Like many of my races the year went like this: Started off pretty crap. Picked up a bit in the middle and tailed off slightly towards the end. I decided to complete Dashers fell race series. And then in a mad fit of enthusiasm I decided to do every race in it. Ker-aaazy, me. And I almost managed it, too.
Here's how it went:
Stanbury Splash Sun 22nd Feb 98th/369 60:54 2nd Dasher
Ilkley Moor Sun 26th Feb 99th/255 51:57 2nd Dasher
Heptonstall Sun 18th Mar 52nd/ 168 2:35:23 2nd Dasher
Liver Hill Tue 27th Mar 28th/ 174 37:58 7th Dasher
Anniversary Waltz Sat 21st Apr 96th/ 289 2:15:26 2nd Dasher
Cake Race Sat 5th May 24th/149 1:20:15 3rd Dasher
Helvellyn& The Dodds Sun 3rd Jun 26th/71 3:13:07 2nd Dasher
Settle Hills Sun 17th Jun 20th/121 1:01:47 3rd Dasher
Ingleborough Sat 21st Jul 33rd/ 187 59:02 2nd Dasher
Pilgrim's Cross Wed 15th Aug 56th/141 50:39 4th Dasher
Golf Ball Wed 22nd Aug 24th/122 48:07 4th Dasher
Whernside Sat 22nd Sep 29th/131 1:54:10 3rd Dasher
Withins Skyline Sun 21st Oct 86th/303 57:31 2nd Dasher
Bronte Way Sun 28th Oct 51st/168 1:08:10 3rd Dasher
Tour of Pendle Sat 17th Nov FAIL - couldn't face this due to injury and illness. Just too far.
I also did a couple of Dashers races:
Darwen Gala Sat 18th Aug 11th/61 29:01 2nd Dasher
David Staff Sun 25th Nov 34th/184 42:20 2nd Dasher
and a Park Run Sat 24th Mar 12th 19:31
That's probably the most running I've done in Donkey's Yonks. Purely by dint of having done a shitload of races I ended up 2nd in the Dashers fell race champs. A feat I am unlikely to repeat! I managed to turn my ankle at Ingleborough in July and it never really recovered. Just to finish the job off I went for a little run up to the Tower over the Christmas hols and stood on a rock. I knew it was a bad 'un straight away as I could feel a 'crunch' followed by sharp pain. I hobbled home. it looks like I've re-done the original tendon damage on my foot from when I first started running about 15 years ago. Not the best end to the year but I'll rest until it recovers and it could have happened at a far worse time. as well as the racing I think the most satisfying running I've done has been leading the club runs on a Thursday night at Dashers. I really get off on coming up with some mad route and then showing to to everybody and I get a real buzz if anybody says 'Yeah, that was fun!'
I'll not drone on about the Dark Un as there has been plenty said about that already. Suffice it to say it went bloody well and I'm hoping for more of the same this year. Fingers crossed. The Toy Run thing wasn't quite so successful. I thought it was a nice idea but it didn't really take off. I was disappointed that more Dashers didn't turn up on the day, that the other local running clubs and indeed the hospital weren't more interested and that it just turned into a damp squib. You can't get everything right but that was a real confidence basher.
2. Cycling.
Pretty happy with how the year went. I managed to complete the Horwich mini hill climb series and really enjoyed it. If it's on next year I'll try to do it again. After all I am a one trick pony and that trick is riding uphill!
I completed the Brownbacks mtb series as well. I like racing up at Lee Quarry despite it being totally singlespeed unfriendly. Well, it kills me anyway... It's a really good set up there and I'm dead keen on 'grassroots' stuff like that. All being well I'll be back for another kicking this year. I will be racing the Vet 50 class (I refuse to call it bloody Silverbacks) so that's a bit of motivation if I need it.
The Rapha Rising Challenge on Strava was something else I did. That was pretty tough due to the horrendous conditions. Getting up way early to ride the long way in pissing rain into work before doing it again on the way home. And then again after tea sometimes. Ah, the loving caress of cold, wet chammy...
Anyway, I finally cracked the bugger and I could feel the strength in my legs improving.
Which leads us to the 'Ride with Brad' sportive. Getting a free entry courtesy of our Will's twitter comp win was a good result. I must have been in pretty much peak condition as I got round the 'short' 62 mile route pretty bloody fast, though I say it myself. 7th out of 723 is quite amazing. It helped that I ended up riding round with Sam 'Watdog' Watson and Mark 'Goldie' McGoldrick who turned out to be really top class fell runners (as well as top blokes).
I'd trained hard for the 3 Peaks cx as I figured that at 50 I wouldn't have that many more attempts in my increasingly knackered body. My stated aim was just to not be slower than the previous year. Really I wanted to see how close I could get to the magic 4 hour time. As it turned out the weather put the kibosh on any chance of a decent time. I should have been gutted but it was such a battle with the elements that I was just elated to be out in it all. It was truly memorable and just ...well, fantastic really. 168th overall wasn't too bad either.
Other than that I did the Chain Reaction Mountain marathon in Shropshire which went ok. There were quite a few Sunday rides with the lads, maybe less than normal. Certainly less Wednesday night rides, sadly. Real life seems to have put the mockers on that one.
The main event was, of course, my Real Ale Wobble. Now that was a legendary one! Let's hope for more of the same in 2013.
3. Real life.
Let's just say that certain areas of my life need looking at. Things could be a lot better. I know that ultimately it's down to me to sort them out before it's too late.