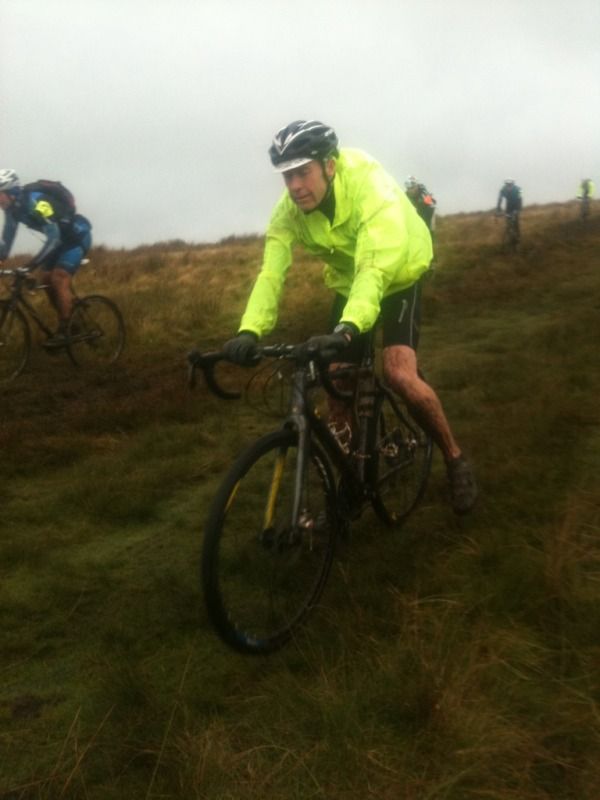 Before.
5th 3 Peaks. 50th edition. Just turned Vet 50. It all added up (in my mind at least) to giving it a bloody good go. I'd worked hard at getting fit over the last few months with pretty much everything geared up to the Peaks. I'd get asked what I wanted to achieve - sub 4 hours? high up the field? I knew neither of those were realistic but inside I really wanted to stop my trend of getting slower every year. The signs were good - a great ride at the 'Ride with Brad' sportive, a pretty decent time for a Singlespeed ride on the Mary Towneley Challenge and some reasonable fell race results. I was feeling good.
Finally the week of the race arrived. I was sensible. I tapered. I took Vit C and avoided people who were even mildly ill. Inside I felt a kind of giddy excitement. When asked if I was ready I could honestly say 'yes'. No nerves, no worries, no doubts. The weather forecast began to be mentioned with increasing regularity on Twitter. It was pretty bad. Strangely even this did nothing to affect my mood. I'd trained hard, the bike was right. I could do nothing about the conditions and, after all, they would be the same for everyone.
During.
If you're reading this then I guess you already have a fair idea of the conditions on the day of the race. Other people's blogs, the photographs and stories are already mythologising the 50th Three Peaks. So, how was it for me? It was tough. Maybe the toughest thing I've done for a good few years. Yes, there were 50 mph winds. Yes, the rain peppered you like shot. Streams became torrents, puddles became lakes. Any hope of a decent time soon faded. Bizarrely what didn't fade was my feeling of euphoria. The worse it got, the more alive I felt. This was wild in all senses of the word. I could trot out hackneyed phrases about elemental battles and conquering mountains etc etc. I'll save you all that, there's plenty of it elsewhere. The upshot is, when all the rhetoric is done, it all boils down to some numbers. I recorded a PW. 4 hours 39 minutes.
After.
Immediately after finishing I was gabbling excitedly to other racers and were also buzzing. Wandering off to find Cath and Hannah and the warmth of the car, I became aware that I was shaking and it wasn't excitement. Teeth chattering and soaked to the skin, I thanked my lucky stars when the car arrived just as I got to the road and I was able to peel my sodden kit off and get some food inside me. Then it was time to reflect. My feelings veered between two polar opposites: I was disappointed to be unable to record a good time despite all the work I had put in. I'm not sure how much longer I can keep battering my body, especially my arthritic knees, so the amount of races I do in future is going to start lessening. On the other hand I had survived an event that, I'm sure, will be spoken of in hushed tones in years to come. Not only survived it but had actually loved it.
The 50th Three Peaks Cyclocross race. I was there.