My foot and ankle problems have pretty much ruled out any fell running but I have managed to get to Parkrun a couple of times. The first time at Bolton I had a good ding dong with Stubbsy which forced me to push a bit harder than I was really up to, to be honest. Shockingly slow time but not a surprise. 20:57. It killed me but I swear I nearly got overtaken by a glacier at one point! Anyway, it keeps me ticking over and there's a club championship based on age and %. You'd have thought that Parkrun really wasn't my thing but I have to say that they are a really good, well organised event and get people out running. I'm a bit evangelical about it now and have been encouraging Laughing Dave to have a go - he's done 2 now - and Dave Billi too - er, not quite as successful with that one!
The bike riding is keeping me sane. I've been riding to work 3 - 4 times a week and trying to get out every Sunday when the weather has been good enough. The snow has been bloody amazing. We've had some properly heavy falls. Crap for mountain biking in but fun to trot round in.
Anyway here's some pics.
The other Saturday I went out for a run on t'moors with Cath and Livsey and various mutts. It was great!
Me looking happy:
And Paul and Cath following on behind: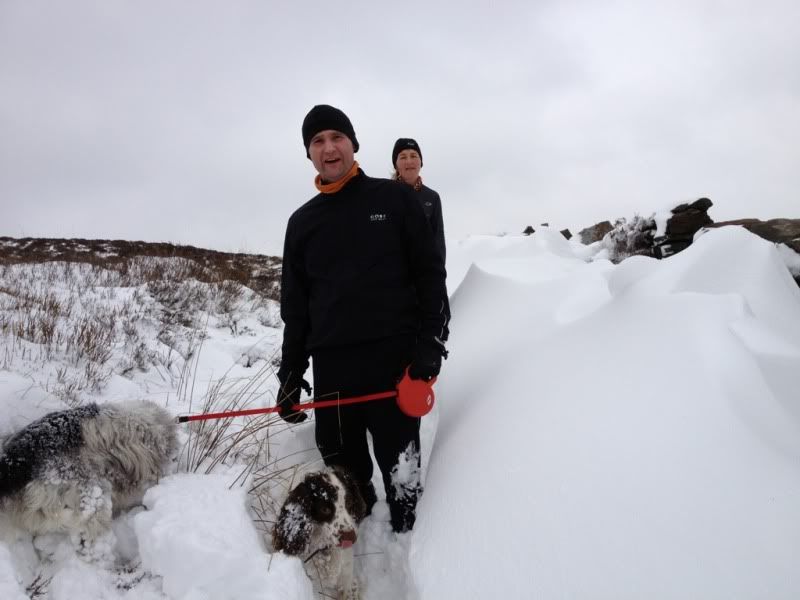 Sundays bike ride was scuppered so I organised another run this time with Livsey and Dave Billi. Similar fun. We came down the farm lane behind the Chinese and it was full of snow! It must have been about 4 to 5' deep. We ended up running along the dry stone walls!
Midweek I finally persuaded our Will to actually ride his bike seeing as we are going to SSEC in about a fortnight. We rode round a very icy Entwistle Res (I binned it and smacked my poor arthritic kneecap) and then we repaired to the Strawbury Duck for refreshments.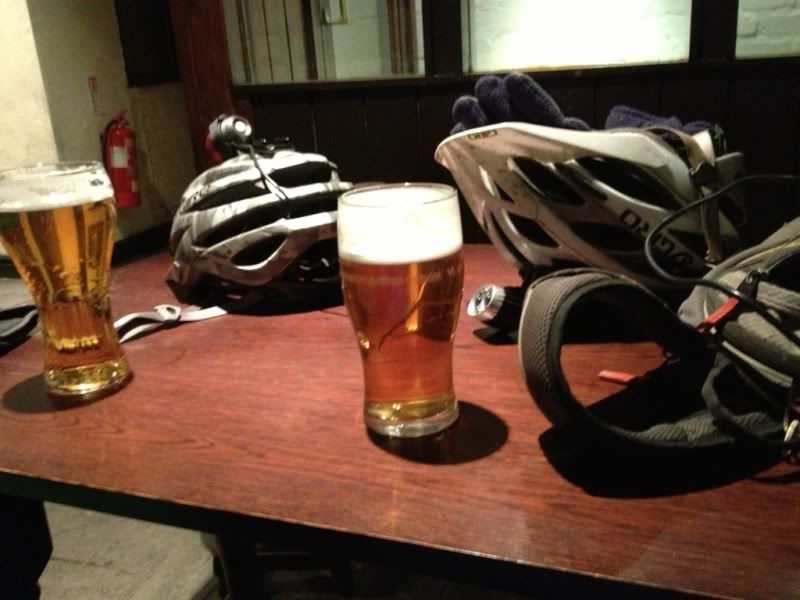 It was a ride of firsts for Will - the first time he'd ridden his bike this year (!!!), and the first time he's got a round in! ;0) Needless to say he really enjoyed it. It was only a short ride and slow due to the conditions but he did ok, really. He will die on his ass in Spain though.
Seeing as I've been enjoying riding to work on the Fort crosser with slicks on I decided to have a ride on my todd yesterday (Good Friday) over Rivi. I passed a sign at Belmont that said Road Closed. Yeah,yeah, I thought. Whatever. And on I carried. It started getting a bit dodgy up on the tops with some snow drifted onto the road and some icy patches. Not too bad. I carried on and reached the big descent towards Rivi. The road was cleared with some massive piles of snow next to the road. It was such a bright clear day that I had to stop to take a pic.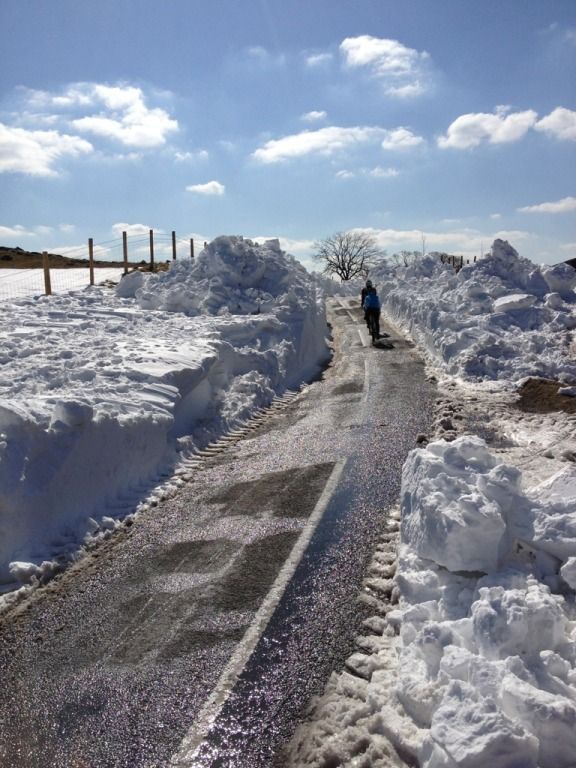 I caught up the couple in the photograph round the corner as they had stopped at the bloody big drift of snow completely blocking the road. Doh! There was a bloke advising us to turn back as the road was filled for quite a distance. Hmm, sod that I thought and, shouldering the bike, I climbed up the drift and made my way to the back way to the Barn. it was pretty busy with bikers and walkers. Bolton Mountain Rescue had a stand there so I went over and had a word with Head Honcho Garry Rhodes for a bit before riding on. I had considered riding all the way to the Toby and back through Pickup Bank but I was so hungry I sacked it and came back via Roman Rd. Lovely ride of just shy of 38 miles.
Today (Good Saturday - hey, if I'm not in work it's good m'kay?) I rode over to Parkrun with Cath and Paul , ran and then rode back. God, it felt hard running! I managed to take 21 seconds of my last (rubbish) time so I was pretty pleased with 20:36. Cath did ok and the riding was good tri training for her.
I'm far from fit but I'm making the best of what I can do at the moment. As long as I can get out then I'm happy and will put up with the aches and pains afterwards.