City Cross Halifax
My amazing lucky ticket and race entry winning streak continued when I managed to win 2 entries to City Cross. The event was originally to be held at a disused mill in Halifax and the organisers had created an urban cyclocross race through the building and its surroundings. It looked pretty cool (if a little scary), sadly the owners pulled permission to use it at the 11th hour and so the race was hurriedly relocated to 'Old Shroggs tip'. Which was where myself and Paul Livsey (the inevitable beneficiary of the other entry) found ourselves on a chilly Sunday morning.
Once we'd extracted ourselves from the chaos of the parking, we had a bit of a mooch. It seemed very well organised with stands selling bike goodies and several food stalls. The course looked a bit more challenging than your standard cx one, with a stiff muddy carry followed by a cobbley plummet – more of which later – and a section where you were pelted with cabbage leaves by small children. Er, yes...
The format of the race was that it was split into various heats, called motos, depending on which category you were racing in. I was in Vets whilst Paul had opted for Novice. Seeing as it was a fun event and I am far from being in any sort of racing form I decided to ride round in my lurid lime and orange underpants that some of you may still be mentally scarred from seeing in an article about a Singlespeed race. They raised a few laughs (and eyebrows) amongst the rest of the guys in my heat as we lined up for the off.
I'd had a bit of a warm up by cycling up and down the bloody big road climb next to the event but my poor body wasn't really ready for the stupidly fast start and I was getting overtaken on both sides straight away. I dug in and finally started to get going about a third of the way round the first lap. The course started on the flat and then went through a sandtrap, across a very muddy field before going through 'Kowbell Alley' (people jangling cowbells at you, basically) and then up a steep scaffold ramp before heading to the climb and descent I mentioned earlier. My first lap went ok, apart from the heart attack inducing pace. My second lap, however, was where I had an 'incident'. I'd struggled up the muddy climb with the bike on my back and then leapt back on to whiz down the cobbles. I think it was a combination of a few factors that led, literally, to my downfall. My tyres were packed with mud, they were at too high a pressure and the cobbles were now polished by lots of wheels going over them.
I had what they call in the trade a 'low side'. I slammed down on my side taking most of the impact on my left forearm and lower leg. I was very aware of my bike grinding down the hill in front of me. It felt like it went on for ages. As you do in these situations I jumped up and got back on. I was in some pain though and I'd started to leak a bit of claret. Which is why I wasn't in the best frame of mind to have objects hurled at me by a baying mass of knee high would be assassins. As well as cabbage leaves they had been armed with marshmallows. I always thought that marshmallows were lovely soft things. Not the one that hit me in the face! I suspect that the charming little tyke in question had enterprisingly pushed stones into his ammunition.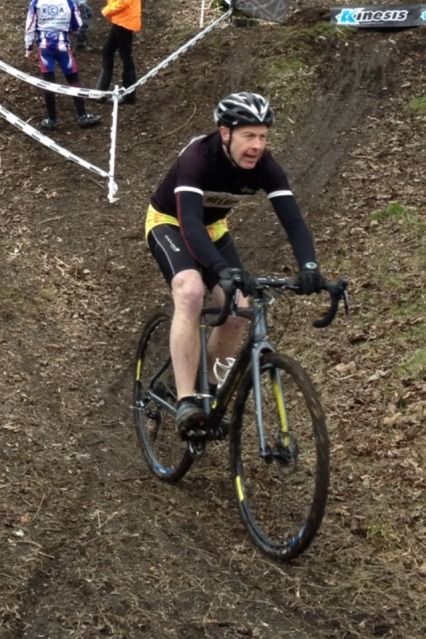 Hence me shouting through gritted teeth 'Ooof! You little b******!' and waving my fist. I later saw a photograph of me on twitter with the text 'Mr Sparkle just before he began swearing at little children'. Hey, it hurt ok?!
The crash had knocked the wind out of my sails and I struggled round for another lap but my heart wasn't in it now. I had hoped to qualify for the next round by finishing in the top 50% of my class but it wasn't to be. Anyway it was soon time for Paul to be off so I contented myself with sticking some extra layers on and began filling the sleeve of my waterproof up with blood. There had been a bit of a crash leaving a kid with a suspected broken collar bone so the course had to be changed while they dragged him off. Paul got to ride on a slightly shorter course but it was still pretty challenging, I thought. He did very well too and managed to qualify for the next round. Ultimately though we decided to head for home. There had been a lot of delays throughout the racing and the afternoon was drawing on. I wasn't too unhappy when Paul said he was ready to go. We chucked our muddy (and rather battered in my case) bikes in the motor and made for the right side of the Pennines.
Apart from the crash I'd quite enjoyed it. It was an interesting set up and there was plenty to see. You were right next to the racing and the event drew a good crowd of spectators and a lot of participants. I think I might have had to have a good think about entering if I hadn't won the entries as it would have cost us £20 each and we only got 20 minutes of racing as it turned out. All in all though, it was an interesting trip out. Well done to the organisers and sponsors. I later discovered that me and my underpants had briefly (see what I did there?) featured in an ITV Yorkshire report of the event.
Video here. Me at 8 seconds and here. Me at 2 mins 7 seconds. And my ass here at 11 seconds!