Rapha Rising Challenge
Ooh, this looked like a whole world of pain 'n hardship - emulate the TdF riders climb while they were in the 'Circle of Death' of the Alps and Pyrenees. 6881m of ascent in a week and unlike the 'easy life' Tour riders I'd have to do it working round the tedium of work and real life. Hmm. A bit of calculating and putting it into old money revealed that I'd have to be doing 3000' of climb a day. Except I wouldn't, as I didn't really have a week to do it - I had a fell race on the Saturday and I was off on me jollies early doors on the Sunday. Riiiight... Well, it's not called a challenge for nowt is it? I'd got a bit of a start with doing the CRC mtb mara on the first Sunday luckily. That gave me a very useful 4696' fer starters. Just to give me a proper boost and to prove my commitment I headed out on the 'cross bike when we got home from Shropshire and did a 1191' ride. Easy.
Monday morning and things weren't quite so rosy. Rain on the extended ride in. nice. Little did I know but this was going to be the theme for the whole week. Also I realised that 'only' 845' gained on the way in wasn't going to be enough. I was going to have to get creative with some of the local hills. On the way home I did Smithills Dean, Belmont Bleach Works, Stones Bank Rd, then off to Edgeworth and along Roman Rd. this little lot gave me 1743', more like it.
I decided that that route was probably my best hope of racking the climb up so I did that morning and night, day in and day out plus whatever other rides I could fit in. One night I rode over Belmont to Rivi where Cath was doing a 5 mile (running) road race. That gave me 2745' but also meant I'd done 65 miles that day. I was starting to feel pretty fatigued. I was also running out of cycling gear and constantly soggy. The saddle with it's holes torn in it, was so wet at times that I could squeeze it and have water run out. Yuk.
Knackered as I was, I was determined to finish this bugger. It seemed at times that not riding the bike felt wrong. I'd got the Friday booked off and I worked out that I could finish it with one decent ride. Up the easy height gain of Pickup Bank, down to Edgeworth and then turned off through Hawkshaw and into Rammy. In a moment of inspiration I decided to do the Rake - national hill climb route. Perfect! Blimey, it's a cheeky rascal! It really kicks up near the end and gets the heart beating a bit. Turn right at the top and along to Helmshore and the the climb up the Grane, back down Pickup Bank and another late addition, Eccleshill. as it turned out it was a good job I stuck that one on as I didn't have a clue how much climb I'd done until I downloaded it to Strava when I got back. I imagined how I'd feel if I got back and downloaded it all to find I was short! Surely I'd done enough? Well, I got back and rather tensely did the 'Save ride' thing. And waited while the Rapha Rising bit acknowledged it and told me how I'd gone on. Had I worn my appropriate 'Col de Tourmalet' jersey in vain? Finally the electrickery put me out of my misery...
Completed - 101%! Job done.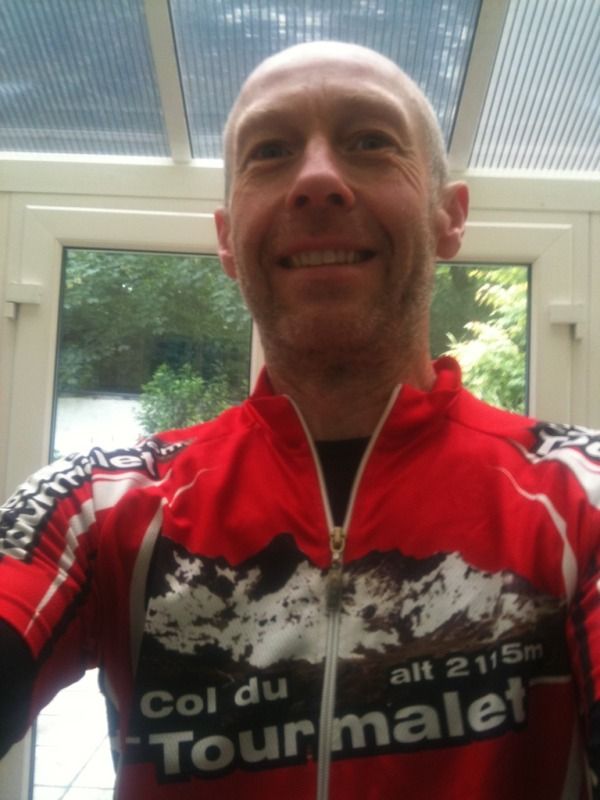 Ingleborough fell race
http://www.sportsunday.co.uk/ing-fell-race0050
With all that bike climbing in my legs and no running for a week, how the hell was this one going to pan out? I certainly didn't know. After the disappointment of Bull Hill I wasn't feeling massively confident, I must admit. I'd travelled up with Stubbsy and Mark W in Jonathan's rather swish VW camper. As it turned out that was 4/5 of Dshers taking part. For quite some time I was optimistic that I could get 2nd Dasher until Des rocked up and rained on my parade. Doh! George T, who had come up with Katy, completed the line up. I realised that I was pretty hungry just before the start and I'd cunningly managed to forget my gels. Luckily I managed to buy a rice crispy cake from one of the charity stands dotted around the field.
When the rather enthusiastic drummers performing on the Gala field had finally finished their performance and buggered off we got to line up. The typical too fast start as we headed through town before turning off towards the mass of Ingleborough . I was next to Jonathan at this point and I can't remember whether I spoke out loud or it was just in my head but I was trying to work out where Des was.
I finally spotted him (no club vest on, see) and gave chase.
At first the track is pretty much flat but gradually it becomes a little steeper and rougher. I could now see both Des and Mark W ahead of me. Des looked possibly catchable but Mark was quite a way in front. To distract myself from the pain I tried to count what position he was in. I made it around 20th. When I finished my mind games and focussed again I had made up quite some ground on Des. I remembered Mark W saying that the race was pretty much all runnable. Right, that was my goal then.
Des was really close now as was Andy Orr, from Clayton, another really decent runner. What's this? Des was walking. Interesting. As I passed him I asked if he was ok. 'Not really.' was the answer. I ran on and incredibly I passed Andy too. Uncharted teritory for me. Dig it in, dig it in. I caught and passed Becki Taylor just as we reached the stone steps. I really really would have liked to say I ran them but I just couldn't. Too steep and too big, too much lactic and too hot. So many bloody big steps. Briefly they were slightly smaller and I could run again and passed a couple of runners, aware of their sidelong looks.
Up to the trig point and two thoughts ran through my oxygen starved brain - the next time I'd be up here would be on a cyclocross bike, hopefully, and the coplete indifference of the marshals. I was killing myself here, the least they could do was to try to disguise their indifference, the feckers.
That was all the up finished and now all the down. and the first bit was steeply down. So much that my feet shot from under me and I whizzed down a fair strech of it on my ass. Looping round to join the stepped path I was soon dodging in and out of still ascending runners. I could feel the hotspot on my heel which is always the tell tale sign of a blister. Putting it to the back of my mind I gritted my teeth and held on. Could I manage to keep in front of Des on the descent? No way was I looking back. The track seemed to have grown in length. My God, it was endless! Finally the end of the track was in sight and just as I was readying myself for the transition to tarmac two thing happened - Andy Orr passed me and then I went over on my right ankle. I could feel something crunch. Ooh, that hurt. No point pulling up now. I wasn't going to repass Andy but I had no idea where Des was.
Across the road, cutting the corner through the car park and into the field. Down the banking trying not to take a prat fall here, and through the line. I was still pretty close to Andy and Mark Walsh was still knocking about, not changed or anything!
To my massive surprise and delight I'd had a bloody good run there. 33rd out of 195 in 59:02
Results
here
Video
here