Bull Hill fell race
I hadn't planned on doing this race. It's not in the fell championship so I didn't really have much to gain from it but a few people I knew were doing it and it made a nice change from running at the club on a Thursday night. I like the course, it's got a bit to it - reasonable climb, a few descents and a long drag back up before the final charge to the finish across a rough field. I had one of the best races of my life here against Mark Walsh a few years back. Proper neck and neck stuff. I still reckon I'd have beaten him if I could have done a track style dip at the finish!
Anyway it was a nice night and it wasn't raining for once so I headed over to Hawkshaw with Dave Billi, George T and our Will (as photographer) on board. The usual registration bit and then the ridiculously long walk up the lane to the start. I could tell that I wasn't really 'feeling it' at that point, I was walking rather than warming up. I had a few chats with people I knew on the line - Stanners ex of Rossy Harriers and Budge and Phil from JMC doing their first ever fell race.
Finally we were off and the climb up towards the Horseshoe path was steep and pretty wet and muddy. Not pleasant. Jonathan B and Des were in sight but a way ahead. I wasn't too concerned as I thought I might be able to reel them in later. We gained the main path and headed down. This felt pretty hard. I was huffing and puffing and the first seeds of doubt began to be sown. After a while the course veers off the path and climbs onto the moorland. I spotted Stanners who had obviously pulled out and looked to be in some pain. Not a lot you can say in the circumstances so I kept schtum and carried on. The next section, although not massively steep is quite a continuous slog. Relentless really. I knuckled down and passed a couple of people but JB and Des were becoming dots on the horizon.
My usual crap performance on the descents meant a reasonable stream of people thundered by. Eventually we reached the return leg of the Horseshoe path. I was goosed. Nowt in the tank. Also, more worryingly, there were some ominous rumblings from my guts. As I got to the stone steps that I love belting down on the mountain bike I bacame seriously concerned that I was going to have to get off the course for an unplanned 'comfort break'. Jeez, I've often needed a pee during a race but I've never come close to sh*tting myself before. A new low.
I struggled on and after an age I came to the turn into the finish field. It was rough as owt with plenty of opportunity to go A over T. Fortunately I got away with it. I could hear somebody right on my shoulder and my old ally. foolish pride, kicked in and helped me hold him off on a sprint to the line. I felt awful and, after hanging around for the others to finish I started to get really cold. I lost circulation in my fingers and was going a bit shivery. Absolutely rubbish. I didn't start coming round until I'd had a chip butty and a pint in the pub after. A perusal of the results later yeilded no surprises, it just confirmed how crap I'd done - a good 4 minutes off the time of my great battle with Mark a few years ago.
Ah well, on the plus side it wasn't a championship race and everybody has a dip at some point. Onwards and upwards.
Chain Reaction mountain bike marathon Marshbrook, Shropshire
I'd won a Twitter competition for a place on the mtb mara for me and on the Sportive for Cath. We drove down in torrential rain and I thought 'Hmm, I'm not really looking forward to this.' Maybe it was because it was a free do but I couldn't get too excited about it. We parked up on the muddy farmers field (the field was muddy, not the farmer. Although...) and set up camp. Later we headed down to registartion and thence to the pub. I find 3 pints is a good aid to restful sleep and I was soon pushing up the Zed's when we got back to the tent. Incredibly it wasn't raining on Saturday morning as the Sportive began. We'd heard that parts of the course had been changed due to flooding a debris on the roads. Cath set off with an early group and was soon out of sight. I mooched about for a while and eventaully came down to the pub restaurant near the start/finish area and got a bacon and egg barm for my dinner while I waited for her to come in.
Luckily I'd finished by the time she got in as she was way ahead of her predicted time - 4:20 as opposed to 5 hours. Not bad for a very hilly 50 miler on some very sketchy sounding roads.
Another trip to the pub that night and another reasonable nights kip. This is a secret I must remember for future use... At the start of the mountain bike marathon I was talking to Neil 'Nezbo' Harwood and his mate and cracking a few jokes. the weather was good and there was no pressure to perform - it was just a challenge ride after all. Neil and his oppo were doing the 80km ride where I was only doing the 45km one. I figured it was enough.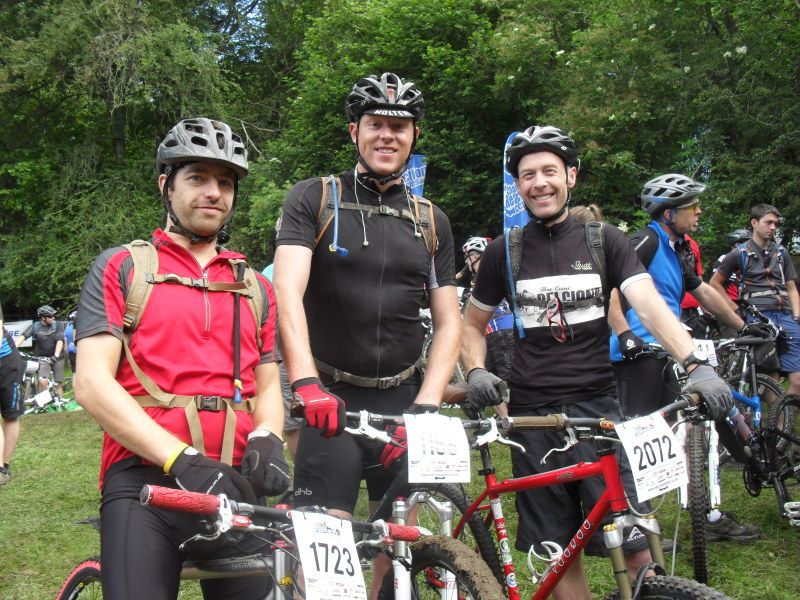 Off we set and were soon on a steep climb. I'd ended up near the back at the start and as I was on the SS I was having to stand up and churn to keep moving. Of course virtually everyobody else was in the granny ring and twiddling so I must have passed about 100 people before the top. I started to feel ok, although I knew there was a long way to go. I wasn't feeling quite so happy when, about 20 minutes later, I rounded a bend on the course to be confronted with a load of riders coming up towards us. Most of them looked a lot cleaner than us and suspiciously very like people I'd passed a lot earlier. They'd taken a massive short cut. I was seething but what can you do? I don't think it was deliberate and it wasn't a race, after all.
Soon I'd shrugged this off and was concentrating on the ride. It has to be said that it was pretty bloody good. Some lovely singletrack and plenty of mahoosive climbs. We went up one and were surrounded by paragliders and gliders floating by at pretty much head level. There didn't seem to be anyone else stupid enough to do the event on a SS and my ego was boosted a few times as I heard folk I'd overtaken muttering '... singlespeed...' and 'Bloody hell!'. Heh, heh!
I was using the event as a starter for the Strava - Rapha Rising Challenge. Basically you had to do 6881m of ascent in a week - the same amount of climb as the TdF riders were doing while they were in the 'Circle of Death' in the Alps and Pyrenees. It was going to be hard for me to complete this so I needed all the ascent I could get. This came back to haunt me later.
I'd settled in and was feeling pretty good. My misgivings about the event had long gone and I was setting about motoring on. With about 2/3 of the course done I could start thinking about heading home. I was hydrated and was managing to get a gel an hour down plus the biscuits etc I'd grabbed at the food stop. There was a long back lane over the tops of the hills which snaked sinuously up and down meaning you could see a long way ahead. I could see a couple of riders in the distance and began to chase them down. I was in my aero tuck and winding it up. I rounded a bend and the guy ahead had disappeared from sight at the top of a steep road descent. I was 'on it' here so charged into it and started flying down. part way a car pulled over to let me overtake. I guessed (correctly as it turned out) that I was doing nearly 45 mph here. It got a bit sketchy as the bends were gravelly and wet but on I flew. it was only when I reached the bottom and hit a cross roads that I realised I'd not seen any directional arrows for a long time. The car I'd overtaken caught me up. 'You've missed it. There was a turn at the gate at the top of the hill.' 'What, that bloody big hill that I've just ridden all the way down?' 'Yes.' Smashing.
It really was a big hill. It really was a big steep hill. It was so steep that I had to get off and walk some of it. 'Ah well,' I thought 'think of the Strava.' I got to the top and rejoined the course. There was a group of 3 riders ahead. I was fired up so set off after them. It was a long steep offroad descent and they weren't hanging about. I caught them at the bottom where they had all stopped. They were looking around whilst looking puzzled. 'I don't f***ing believe this' I thought. Back up the bloody hill again. I was so steamed by this point that I just blew the others away. Again I got back on track and raced after riders ahead, this time keeping an eye out for markers too.
I caught one guy up and he was keeping pace with me so I engaged him in conversation. He had quite a distinctive foreign accent so I asked where he was from. 'London' he replied. A bit of tutting and eye rolling from me and he revealed that he was origianlly fromTurin. We kept pace for quite a while and really enjoyed flying along the tops, eventually getting onto another back road where we were easily keeping pace with the traffic. Soon we reached a point where the different courses split and we pluged down. This must have been the highly trumpeted long singletrack descent that I'd heard so much about. Great! Well, it was great until everybody slowed to a halt and realied that we'd gone wrong and the proper route was waaaay below us. This one turned out to be due to somebody taking a marker pole down. Nice one. I went off piste down a proper arse on the back wheel steep descent.
Now I was on the tRack proper I could motor a bit. It was fun, in a very wet way! More back lanes and I was catching and passing more riders here. One guy I couldn't catch was on a free ride style full susser with flats on. Just couldn't catch him. Eventually the course reached the campsite and the muddy techy descent to the finish. He jibbed on a bend and I shot past. Get in!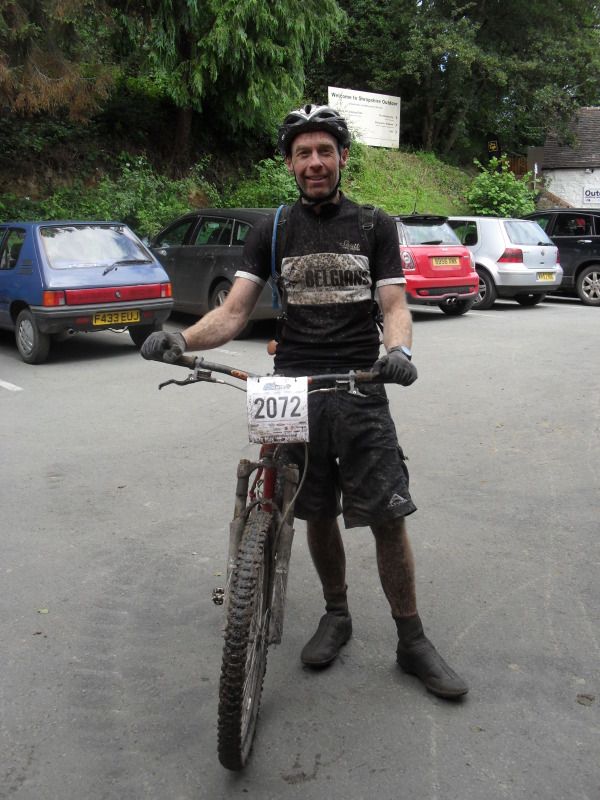 At the finish I got my free t shirt (Woo!) and had a quick word with my new Italian pal who came in a bit behind me, before heading off to find Cath. Food, bike washed, me washed, car loaded and we were away. Or we would have been if the battery hadn't gone flat. After a fair bit of trasipsing round i got a jump start off a guy in a camper and we were finally heading home.It had been a good do. The weather was pretty kind to both of us and we both had enjoyed it. My final starts were 32.4 miles and 4696' which was quite a bit more than I was supposed to do, but hey, think of the Strava!
Big thanks to Chain Reaction for the free places and to John Lloyd and his team for putting on a cracking event.
Strava
here