Pic by Martin Holden Photography
http://www.martinholdenphotography.co.uk/
The second hill climb of Horwich CC's mini series was the Matchmoor Lane one. After working out where the route went I opted to use the 'cross bike rather than the Singlespeed. Too much spinny stuff on the roads on this one. Plus the SS needed some attention. I'd mentioned the event to Paul Livsey the night before but he'd sent me a text earlier in the day saying that he probably wouldn't go as a. he'd cycled to work in Preston and b. it was lashing it down. And so it came as a bit of a nice surprise when he rolled up as I was getting my act together before registration. Also in attendance was Alison Mitchelmore who is the other half of a friend from various bike events. We three seemed to be the 'odd ones out' to a certain extent as the rest were club riders from various local clubs.
In a way these low key events are a bit like fell races in that there is no snobbery and you can talk to anyone and have a laugh no matter what level you are.
Anyway, soon it was time to get lined up. I'd decided not to be as keen as last time and so got a number quite low down the start order. I was 14, Livsey 15 and Ali 16. The guy in front of me set off. He looked the part - properly muscley calves and shaved and tanned legs. He went off like a rocket. Now, although I was on a bike that was a
lot
more appropriate than last time I was still on a pretty hefty device compared to the carbon and titanium road bikes I was up against. Also my Landcruisers were probably twice as wide as everybody elses tyres! I do enjoy a challenge (yes, I am an idiot)...
5,4,3,2,1 and I was off. Head down and hammering with the front wheel popping little wheelies as I charged up the road.
Since doing the first event I knew what to expect. Pain, basically! I experienced the wierd and rather nauseating effect of staring straight down at the road and not being able to focus on it as it shot by beneath me. I couldn't keep that up and so had to look up. Bad move, it just seemed like I had barely moved. Reaching the turning for Georges Lane I swung left cheered on by the marshals. I was quite surprised to see a rider up ahead. My poor oxygen starved brain convinced me briefy that I must be riding like a God and it was 'Muscley Legs' ahead. Silly boy! I thrashed on and made the turn for Matchmoor Lane finally catching the bike ahead. It was actually a young lad of 11 who was doing his first bike event. I mustered enough breath to give him some encouragment as I passed. He just looked a bit bewildered.
Stood up and the pedals and ekeing out the last of my energy to crest the rise before a sitting down spin to the finish line. Again I had to have a bit of a moment to compose myself. My chest was burning and the asthmatic cough had started up again.
I trundled down to the line to cheer the young lad in and then spotted Ali heading home with Paul just behind.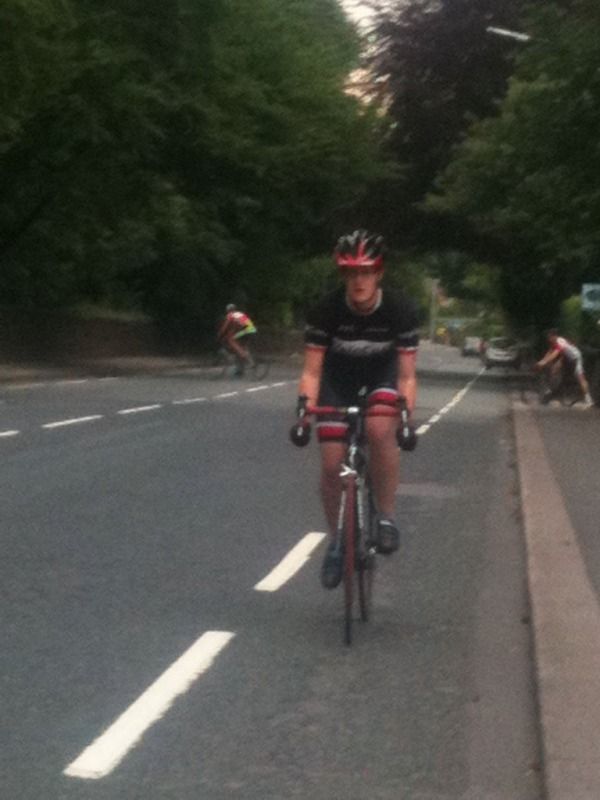 We had a bit of fun at Ali's expense as she laid her bike down carefully before prostrating herself on the floor whilst panting dramatically. Offering no sympathy whatsoever we had a bit of a chat standing over her. When she realised that we weren't taking her on she asked me to take a pic on her phone of her sprawled out on the deck. I fired a few shots off and then managed to get quite a good one of Livsey mooning. Obviously I wouldn't condone this sort of behaviour myself...
When we'd all pulled ourselves together and decided that it had been a good do, Paul set off to ride home (!) and I went back to the start to pick photographer Will up and head home myself. We drove back over the route of the race so Will could have a look at it and then went over Belmont Rd back to Darwen. I was quite amazed when we'd got virtually all the way home before we caught Paul up!
I got the results off the Horwich CC site the next day and was very pleased to see that I was 9th out of 19. I thought that I'd have been maybe ahead of Livsey, Ali and the young lad so this was a real bonus for me. All being well I will do the last event in the series next month.
Big up to the Horwich club for organising it.
Results:
1 John Findley Bill Nickson R.T 6.16
2 Adam Newall Horwich CC 6.30
3 Rob Richardson Bolton Hot Wheels 6.43
4 Jason Wiltshire Lancs RC 6.54
5 Dave Headon Horwich CC 7.00
6 Luke Dearden Chorley CC 7.05
7 Robert Armstrong Bill Nickson RT 7.08
8 Denis Mason Horwich CC 7.14
9 Simon Fox Here Come The Belgians 7.39
10 Neil Pope Lancs RC 7.47
11 Steven Horrocks Lancs RC 7.50
12 Dave Bateson Horwich CC 7.53
13 Tim Kelly Horwich CC 7.55
13 Mark Potts Lancs RC 7.55
14 Alan Gibson Manchester Wh 8.03
15 Shaun Taylor Horwich CC 8.17
16 Alison Mitchelmore Velocake 8.48 Lady
17 Paul Livsey Darwen C 9.16
18 Jordan Stanworth 11.20 Junior
Pics by Martin Holden Photography
here