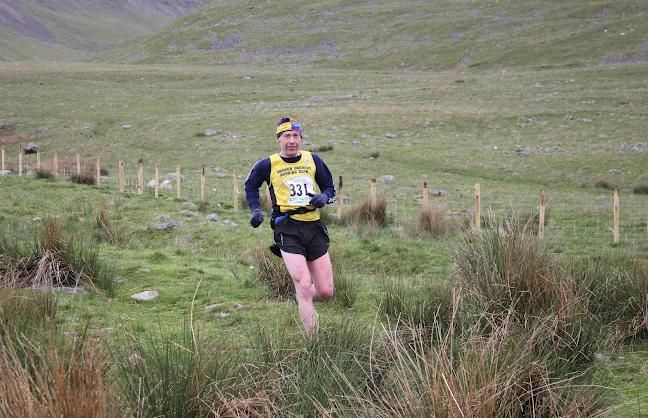 At 15 miles and over 4,500' of ascent this race was going to be a test. With a month of Strava 'strive for the summit' inspired hill bashing and a few longer runs behind me I felt like I was in as good a shape as I could realistically be in. There was a reasonable turnout of Dashers for this. It's another counter in our fell race Championship but it isn't exactly on the doorstep. Chatting to Mark Walsh before the start we both shared the opinion that the race seemed to be something of a secret. Not much info on the 'net, certainly no map, and no thread about it on the FRA forum. Weird. I parted with £3.50 to Pete Bland for one of the excellent Harveys waterproof maps of the race course. A quick scan of it before the off confirmed what I expected - a steep climb to start followed by a pretty much linear course picking off summit checkpoints along the way to Helvellyn and then turn and back the same way.
Just shy of 80 runners on the line gave me a moments pause. What if I went wrong at some point and I wasn't in sight of anyone else - would my rusty (and pretty poor) navigating skills be enough to bail me out? I pushed these thoughts to the back of my mind as we set off. I have a good idea of a sustainable pace for distance now and so I got my head down and just tapped it out regardless of what anybody else was doing. Mark Walsh was away with the leaders and Jonathan B was a bit in front. I'd been with Kev Smith at the start so I knew he wouldn't be too far behind. The ascent of Clough Head was pretty huge but not as severe as Robinson, for example. I kept my steady pace up and by the top I was with Jonathan. I was a bit narked to notice that some runners had taken a line away to our right as they ascended. I didn't know if this gave them an advantage or not but as the course was still marked by flags at this point I felt that they shouldn't be doing it, 'Bob Graham line' or not.
Along the tops in a small pack of runners. Usual pattern of pushing a bit on the climbs and dropping slightly on the descents. I felt pretty comfortable as we bombed along, ticking off the checkpoint at Great Dodd as we went. My recent efforts in training must have paid off as I found myself having a chat to Jonathan on one of the climbs rather than the usual breathless and pained silence. I was quite surprised to see a few mounatin bikers up here in the wilderness. Most of them were pushing pretty beefy looking DH or Freeride rigs and were heading up to Helvellyn. 'Good effort' I thought to myself.
By the last but one checkpoint on the outward leg, Raise, I decided to stretch my legs a little and took off after a guy a short distance in front. The checkpoint itself was atop a rocky outcrop that was almost a scramble to get to. The clag was coming down here and I lost sight of the runner ahead and at times struggled to see the path. A sign of things to come as it turned out.
Only Helvellyn summit to go. The wind picked up massively here and was blasting in from my left. I staggered in the force of it and peered through the gloom. The leading runners appeared and sprinted by. I spotted Mark W amongst them and gave him an encouraging shout. The thought flitted through my head that I wasn't actually that far behind him. Blimey! Reaching the checkpoint I was clinging onto my race number to prevent it being torn from my vest. The cold on my head and face was pretty intense as I turned and headed back the way I came. Scittering across the rocks on the summit and heading back towards White Side was where it all went wrong. I lost some time after deciding that I needed to put my hat on. My hands wouldn't work due to the cold and I struggled getting it out of my bumbag and onto my head and then couldn't zip it shut. I was on the path and , although I couldn't always see it, I could make out the mini cairns along its way. Glancing to my right I saw a line of runners including Jonathan. I thought 'That's not right.' I continued on my line until self doubt led me to cut across towards them. Even then I knew it felt wrong., I shouted to the guy at the front and indicated the direction I'd just come from but he kept going. He looked so sure of himself that stupidly I believed him. Onto a wider reddish earth path and descending fast. It suddenly veered way off to the right and I skidded to a halt. This definitely wasn't the way we came. The mystery lead runner had disappeared from view and there was a group of four of us left scratching our heads. Jonathan, myself, a Preston Harrier and a guy from a Lakeland club, I think. We all knew we were wrong and did a bit of communal swearing before acting. We could see a lake below us and after ruling out the daft suggestion that it could be Thirlmere by pointing out what the compass was saying we continued bearing hard West, contouring round the hills. After a while we spotted a hut and a ski lift. I didn't even know that there was a ski lift on Helvellyn! We dodged across the grassy piste and scambled on. I was massively pissed off as I had been having a decent run until that point and I had visions of all the Dashers flooding by while we floundered. Suddenly we saw the path and runners descending fast. Some shouted questions and we ascertained that we had missed the Raise checkpoint. Bollocks! There was no way on God's earth that I was going to get a DNF after all that work so I set about charging back up to the summit to get checked. I shouted encouragement to Jonathan but he seemed quite disillusioned by now and said something about seeing me at the finish.
I was totally fired up at the embarrasment of going wrong and I set about beasting myself to try to make up as many places as possible. I saw Rebecca and Chris and thought 'I've gone from 2nd Dasher to last!' It turned out that they had reached Raise after the 2 hour cut off and had been send back. That must have been pretty soul destroying although Rebecca was certainly in good spirits as we exchanged a joke when I sprinted by. The long open stretch across the tops skirting Stybarrow Dodd revealed a long spread out straggle of runners. Any style I might have had was long gone as I pushed hard to catch up. I wasn't entirely sure who was in front from Dashers although I knew that Kevin was. I'd spotted him wearing a reflective windproof top as I turned back to Raise earlier. That was my marker. I could see a flourescent top way, way ahead of me in the distance. I knuckled down. Onwards and onwards I thrashed. Back towards the Great Dodd checkpoint. Finally I spotted Kev. He'd taken his windproof off now and was running with someone else. He was part way up a climb and now walking. I tried to run as much as I could before being forced into the fell runners walk, hands on knees, back bent. Still I passed people. Kev glanced back and saw me and started to run again. As did I. The sting of pride stronger than my flagging body. I caught him just by the checkpoint at Clough Head. Genial as ever, Kev actually seemed quite pleased to see me and we had a bit of a chat about what had gone wrong for me. Soon we were on the steep descent of Clough Fold and my battered quads and blistered heels slowed me massively. Kev's superior descending skills would have been a delight to watch in different circumstances as he shot off and put a massive gap in.
Was all my work in vain? Had I come so far to be let down by my lack of prowess going downhill? No, I thought. I'm not bloody giving up that easily. After the main drop there was a rough field to cross as we headed home. This wasn't anywhere near as steep and I could see Kev ahead of 2 other runners. Back up to red lining again. Arms and legs pumping furiously now as I knew this was the only chance I had. The gap narrowed. A photographer popped up out of the heather. I gave him 'the grin' .
Then we were onto the singletrack strip of tarmac which led to the finish at Threlkeld Cricket club. My feet slapped the ground as I pounded along. I shot by one of the runners ahead on a bend and then reeled in the next on a short straight. The little bridge that gave onto the field was in sight. Kevin was part way across it when he turned and saw me. Just a few hundred yards to go. No use saving anything. The tarmac gave way to grass and finally I was on his shoulder entering the field 'Well done, Simon. go on.' he said. The red mist was still flooding through my head as I sprinted for the line, mouth agape. And. Finish. My God, what a race!
Later on after seeing the results I reflected on the way it had gone. A stupid mistake and lack of self belief had cost me maybe 15 - 20 minutes or so. This could have possibly given me a top ten finish. Ok, the field seemed a little depleted, possibly clashing with other races, but even so a top ten finish in ANY race would have been a pretty big deal to me, let alone a 15 mile tough Lakeland fell race. So was I disappointed? Actually no, in fact I was pretty pleased with myself. Yes, I'd messed up but I had been running pretty well up to that point and I hadn't given up. I'd got stuck in and worked bloody hard to make up all the places I'd lost. In the process I'd had a really great contest with Kevin. This was one race I won't forget in a hurry.
26th out of 71 finishers 3:13:07
Results on this page:
http://www.keswick-ac.org.uk/
Photos by Paul Dobson. More here:
Paul Dobson's pics
Strava:
lumpy