Floressas, France.
This was a roadtrip. Me and Will, the bikes and all the camping stuff off to the Pyrenees to meet, ride and party with like minded loons from all over Europe and beyond. So much happened that I am going to resort to a Gonzo journalism style stream of conciousness info blurt to give just a flavour of what went on. Plus it seems appropriate for a tale that takes in Stone age monuments and cross-dressing Belgians.
Motorwaying for hours through the brow furrowing, headache inducing spray. On the fly decision to take in Stonehenge as it's only half an hour out of our way. Park. Out. Snap. Snap. In. Go.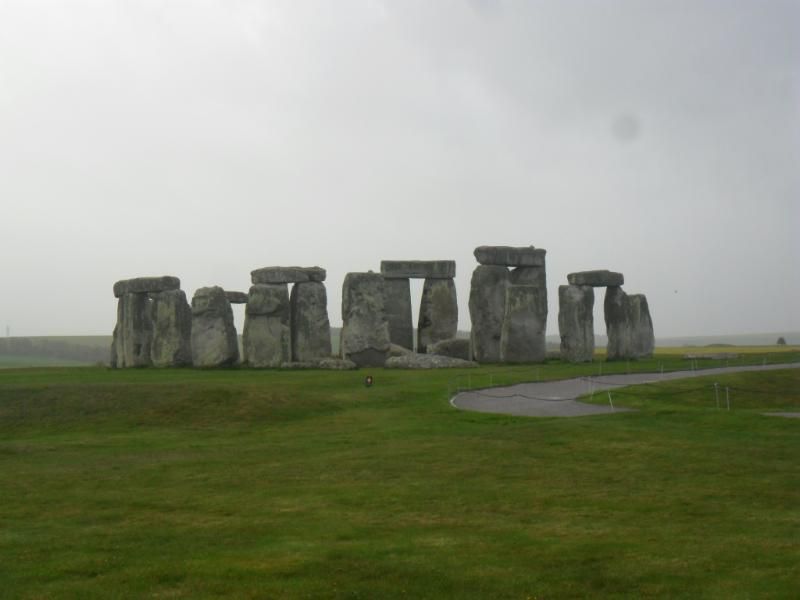 Outskirts of Winchester for a kebab van tea. On to Portsmouth followed by a Porsche the colour of a '70's toilet suite. Why the sudden fashion for sticking hazards on when boarding a ferry? I can see, you know! Pint in the bar. Traditional French school trip kids on the dancefloor. Bed. Aaand time to get up. Blimey, Caen already. Next stage on the trip - pilgrimage to Le Mans. First place I ever went abroad, twin town with Bolton. Discussion on places with more than one twin town. How does that work then? Pics of the footy ground and the 24hr circuit.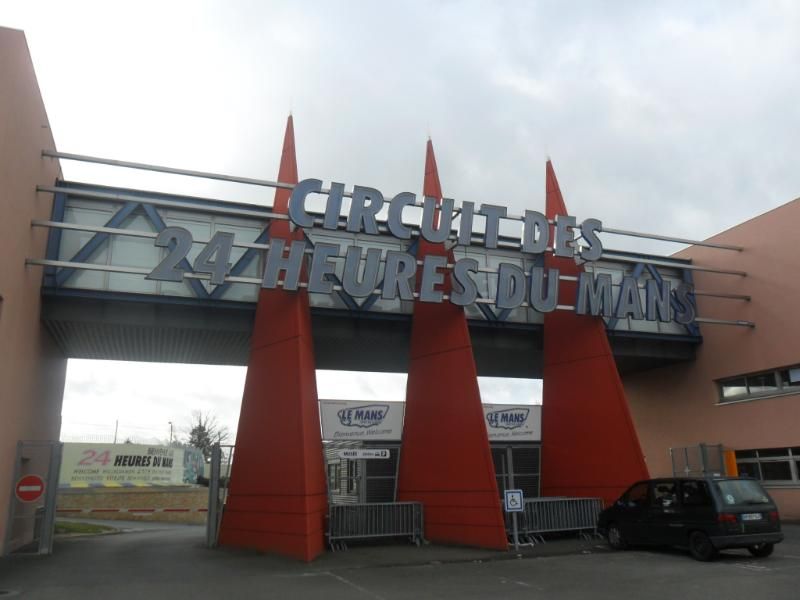 On, on. Destination Cahors. We'd hoped to meet some Belgies that we met at last year's SSEC who were cycling there from Maredsous. Will had been 'talking' on FB to some Norn Irish lads who were driving down with a caravan and said they might stop there too. Got there. Dead quiet. No other SSers in sight. Into town over the river in search of grub. Impressive old buildings. Finally we find a restaurant that actually had people in. Steak and chips for 2, s'il vous plait. 8E50 each. Bloody superb it was too. Back to the tent for a kip. Early up for me. Lazy arse stayed in his pit while I ran over the river and followed it to the bridge the town is famous for. Pretty cool.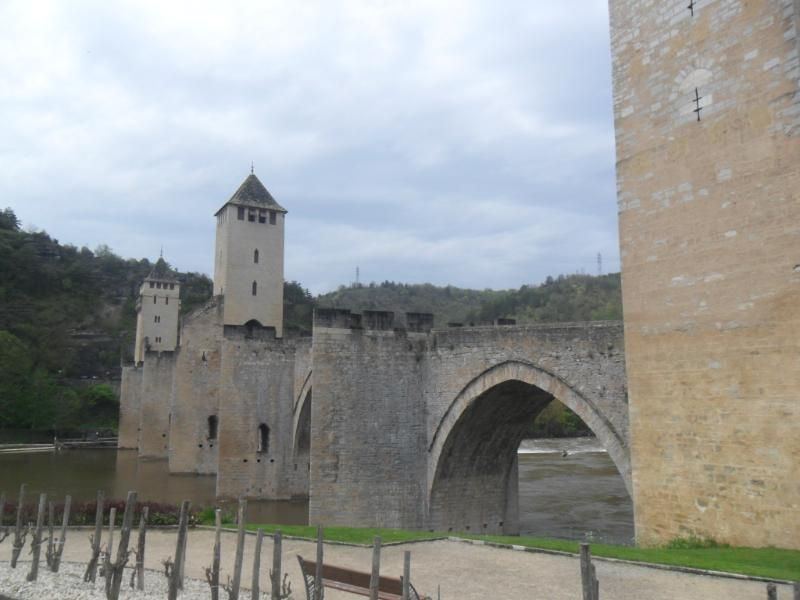 Up and away for the last small part of the trip to the village (hamlet?) of Floressas. it felt familiar as we'd seen the pics on the website. Found the Irish lads, introduced ourselves and pitched tents on the village green near their caravan.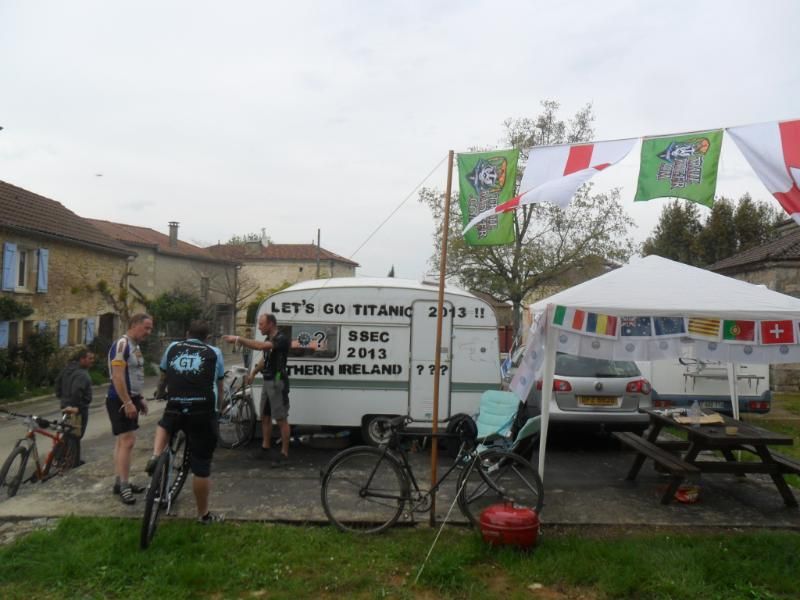 There was a Belgian enclave nearby and a large posse of Catalunyans arrived soon after. Up to the chateau, register, get tickets for bread and croissants and bought a book of beer tickets. Familiar faces all around. some we actually knew - Sheldon Attwood, Ringo, Charlie the fishmonger, Le Dav and Bruno from the Belgians, large contingent of Godiva Trails from Coventry too, including the very gorgeous Lea. In the aftenoon a ride was proposed. That'll do we thought as the night ride wasn't due to go until 10.30pm and we figured we'd be tucked into booze by then. The locals led us off into the countryside, shrouded in mist at first but clearing. Varied trails - clayey fields, rooty woods, technical rocky bits. Not many steep climbs but we must have been high already as it was hard work and sweaty. I crashed. Clattered my knees and managed to knock the back brake. Damn thing started sticking on for the rest of the trip. Bugger. The riders mamaged to get split up. Was a bit worried as Will disappeared with the missing group. Rode back. They had taken the short route.
That night was the traditional pre race piss up. We had taken our own supplies - Will on the cider me on the bitter but soon I was tucking into beer from the beer tent. It seemed to go down very well. best thing about these do's is the people. We talked to loads of interesting characters. I was really pleased to see a really nice French girl that I met last time in Belgium and I spent a lot of time massacring the French language with her and her boyfriend. Usual stupidity. Us wearing Lancashire flat caps. Will riding somebodies mini bike.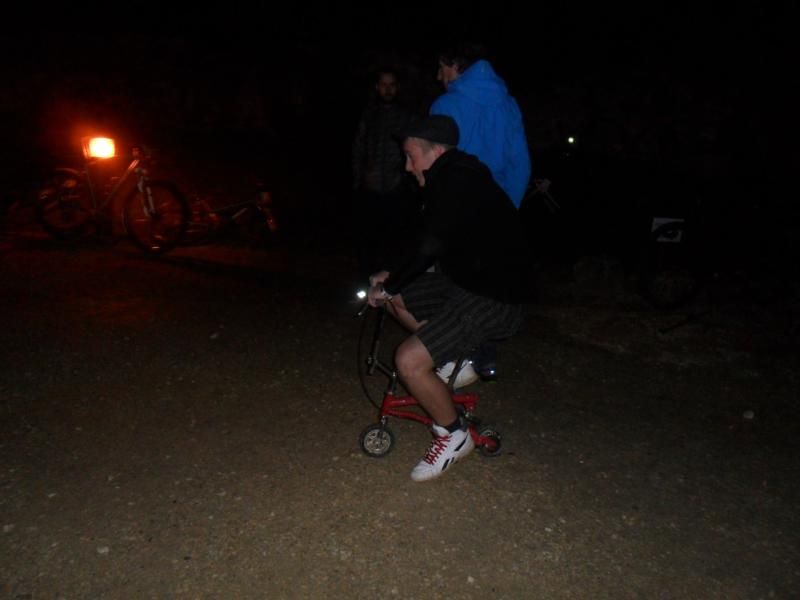 Beer flowed as it does and I suddenly realised I was on my last beer token (of 10), therefore I must be bladdered. Bed. Will was happily talking to the Irish Trailbadger guys in their caravan and told me in the morning that I was snoring by the time he went to bed.
BONG!!!! It's surprising how a really, really loud and unexpected noise can come close to inducing cardiac arrest. Or maybe it isn't. BONG!!!! Following 9 bongs the church bells a few feet away then proceeded to go off on a riff of slightly quieter strikes. I was quite surprised. Mostly because it was seven o' clock rather than 9. Must be a French thing. I got up and breakfasted feeling pretty ruined after the night before. Mind you I think I was in better shape than in Belgium last year.
More to come...