The year has done it's usual trick of suddenly getting nearly half over before I'm ready for it. For a change I've been getting my finger out a bit on the fitness front and I'm pretty happy so far. My goals are to complete, and do well at, the Dashers fell race series and to get in shape for the 3 Peaks Cyclocross race (presuming I get in). So, given all that its reached the time of year when there's some event or other on every weekend. In the last couple of weeks I've managed to get a couple of fell races in and a mtb challenge ride.
The first was the 'Cake Race' in Diggle, Saddleworth.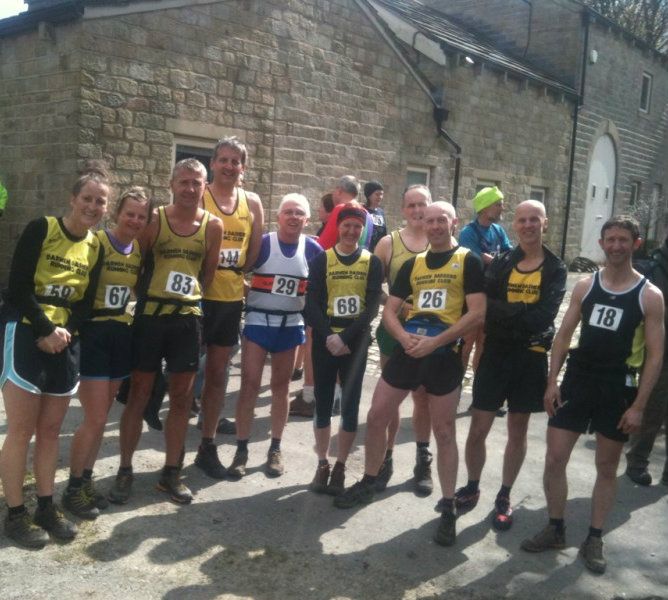 This was a championship race so was pretty well attended by Dashers. In the car park I couldn't help but think 'Oh, there's Jamie. That's a place lost. Mark Walsh, that's another gone. And Des. Smashing.' I knew that I had no chance against Mark and Des but maybe I could stay in sight of Jamie over the 9 and a bit mile course. That was my game plan. From the start Mark and Des shot off and I dug in on the steady climb. I caught Jamie and passed him. A longish drag across the moor and then down. Jamie shot by me, legs and arms flailing. He got away. I settled in but kept looking ahead to see how far he was in front. Steady away. Eventually we reached the turnaround point at a reservoir. Although he was a good few hundred yards in front I could see him glancing back. Aha. Another longish flat drag and then down a long flight of steps to a dam. Jamie hadn't extended his lead and I knew we were coming to more steps going up this time. Great! I dug in and ran all the 167 steps where everyone else walked. I passed lots of people and reeled Jamie in. By the top I was about 5 behind him. Another look back. Along the side of a Golf course and I did a quick overtake so that I was right behind him. As he crossed a stile he did a big doubletake when he saw me right behind. 'Where did you come from? ' he said. I explained about running the steps. I think his head went a bit then. The next bit of the race is a grind uphill. I knuckled down and concentrated on keeping going. I figured that if I could put a gap in here I stood a chance of holding him off on the descent to the finish. To my delight this actually worked. I think Jamie got a bit disheartened and gave up a little as I was a minute and a half in front of him at the finish. I was bloody pleased with 3rd Dasher and Jamie and I both agreed it had been a good race between us.
Next up was Belmont Winter Hill fell race. I think the last time I did this race was 2007 and although it's only a short 'un - 4.5 miles - it packs a lot in. It wasn't a championship race and I cadged a lift off 'young' Jonathan Bruton and took Dave the Builder with us as I thought he might like to have a run out. George Thompson was already there as we arrived and we saw Des Reilly at registration. A quick warm up and a slash in the bushes and I discovered that Gary 'incognito' Taylor was also taking part. Blimey, a decent turnout of Dashers for a non-championship race! Jonathan and Des were always going to beat me in this but that was ok. In a way it was more of a training run with a load of other people taking part. There's a real brutal start to the race. You run past the Blue Lagoon on the road and it just feels like you aren't moving but your lungs are burning. Somehow it's a massive relief to finally turn off onto the moor. And then you climb. Steep but runnable. Head down and dig it in. Jonathan behind me and Des still in sight ahead. It levels out briefly and then the real climb begins, up the side of Winter Hill. I managed to keep jogging it out for quite a while before settling into the 'fell runners walk', hands pushing my knees down, back bent. Near the top I discovered Dave Woodhead, the organiser of many Yorkshire fell races lying on his side in the grass taking photo's of us all. I had a brief word with one of fell running's good guys and he took a decent pic of me.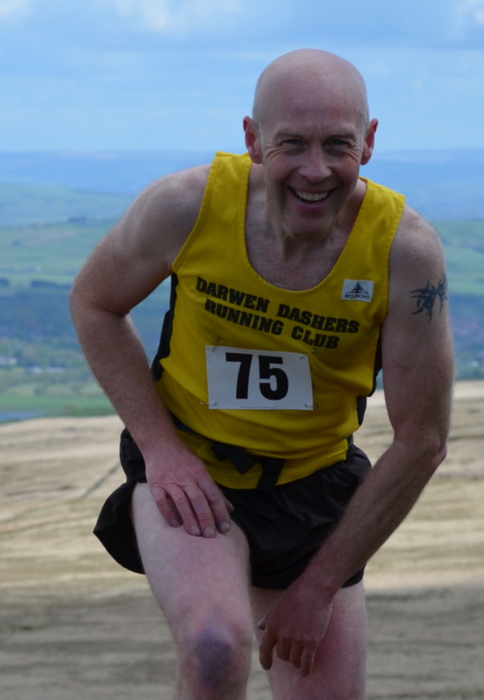 Right behind Des by the time we topped out I gave him an encouraging 'Go on Des!' which worked really well as he then took off like a scalded cat! Jonathan passed me soon after and flew down Noone Hill and onto Georges Lane. He was just about in sight by the time we had run along the bumpy track and then begun the nasty climb back up the side of Winter Hill. Along the fence at the top and back the way we came. By the time I was descending I could see Jonathan was a little yellow dot way ahead. A plummet off the moor and then a leg killing run around the paths by the Blue Lagoon. I could hear somebody right on my tail and I was dying. I held him off untill we got near the road and then he got by. A Horwich runner of about my age. Onto the playing field and I thought I might as well go for it. I sprinted. His head went. I beat him. Result! We shook hands. Jonathan has finished about 30 odd seconds ahead of me. Des was well in front. We saw Dave the Builder have his own battle at the finish. George came in later, a bit unhappy.
I had decided to run home as I need to get some miles in. I thought it was quite a way home, it certainly felt it. Strava told me it was only 5 and a bit miles. It was a nice run in the sunshine though and a decent warm down!
The day after I had an early start for a 30 mile mountain bike challenge in Golcar, Huddersfield. I'd encouraged a guy I know to do it on his cross bike as a bit of early training for the 3 Peaks. Laughing Dave was also dead keen on doing it. I was on the Singlespeed, natch. I'd done the event a few years ago with D t B and remembered that it was pretty darned hilly. It was going to be a challenge in more ways than one. Virtually from the off you are climbing a cobbly hill and blowing. The route is a good mix of off road descents and largely on road steep climbs. For the first ten miles or so I rode in complete silence. Everybody around me looked serious and looked like they were in a race. The group I ended up riding with seemed like a binch of miserable gits so I made so witty comment (hard to believe, I know) and that broke the ice. There was a shortish fella on a blue hardtail in his early 50's and he started talking to me then. Trouble was every time he told me about the course it was 'Oh, big climb coming up' or 'Bit of a dangerous descent here.' I started laughing and said 'Bloody hell, it's always bad news from you!' we rode on as a group for quite a while and worked together at times. I dropped them a bit on one of the mahoosive steep climbs and heard one of them saying 'He's doing well on that singlespeed.' which did my ego a bit of good!
Eventually we reached a climb through a valley. I remembered it from the last time I'd done it but given that it still seemed quite familiar. It was only later I realised I'd been there going the opposite way on the fell race the previous weekend. Anyway we ground our way upwards. A bloke I was with said 'Oh are we going to get a tailwind along here?' I said 'I doubt it, its been headwind all the way so far!' And sure enough we got a headwind as soon as we got out of the shelter of the hillside. Doh! Part way along here I came across the Sport Sunday crew. This gave me a boost as they are really good folk who do a great service for so many events. As usual I was snapped whilst flashing my pearly whites. I must say in my defence that I was really enjoying myself and was feeling slightly euphoric.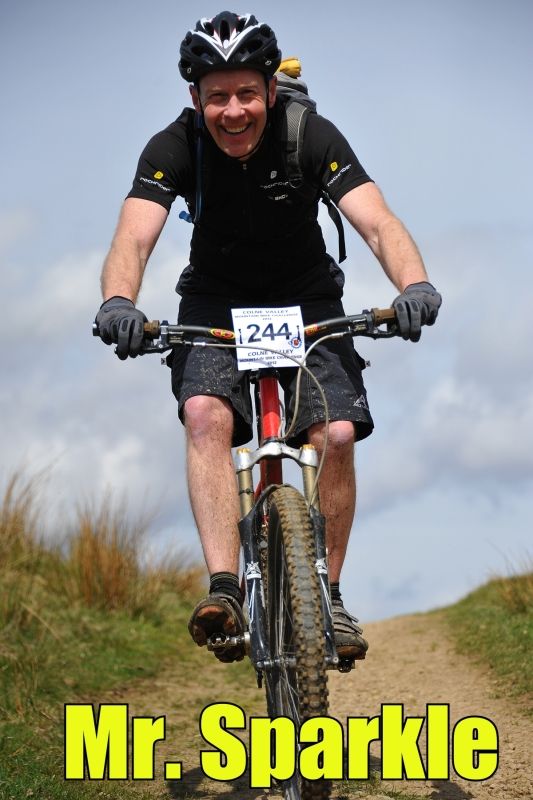 At the head of the valley we turned off onto the road. Finally there was a headwind. Blimey it got fast! I spun out in no time and got into an aero tuck, the tyres were making a fantastic buzz on the tarmac and my eyes were streaming. Must have been getting on for 45mph I reckon. after a few minutes of this adrenalin fix I was directed back off road by marshalls. This next bit was hard going. I could see the group I'd been with a little further ahead but I could feel my energy levels dropping after so long stood up pushing 32:16 against the wind. I had to stop and get a gel down my neck. I lost time but there was little choice. I had no idea how far we had gone but my Spider senses picked up that vibe in the air, that slight picking up of the average speed that makes you feel you are nearing the end. I think the caffeine in the gel had worked its magic as I began to wind it up. Into a small town and there were 2 riders ahead. I put it in to get on them but as I neared the front one carried on whizzing down the road whilst the other took a left at the route marker. When I caught up he said 'I shouted after him but he just kept going.' Ah well. I bet he'd be upset when he realised. The pace was now nearing frantic and I was glancing over my shoulder at someone coming up fast. He just nipped past as we got to a road junction. We turned left and he got stuck behind a stopping Tranny van as I whizzed past it. 'Unlucky.' I said, trying to keep the glee out of my voice. Hammertime now as the finish line neared. My little legs were going 19 to the dozen as I spun the SS into sprint mode. A turn onto the finish field and the line was in view. I just held him off. The clock gave 2:51. Not bad for a hilly 30 miles even if there was plenty of road. I got changed and grabbed a bacon butty and a brew. Craig on his 'crosser arrived soon and I had a good chat with him about the event and mutual acquaintances. I hung around for a while for Laughing Dave but there was no sign and I had to go. He got 3:37 I found out later but to be fair he had been ill and had hardly ridden his bike for about a month. I was fairly happy with my performance until I found my certificate from last time I did it and discovered I was 11 minutes slower this time! A good day out and a fun ride with some tough bits. These challenge rides are a good work out.
Results here:
http://cvmbc.co.uk/2012-results/
37th/266 finishers will do me.
So, in summary a busy couple of weekends and it seems that giving the old body a battering seems to work ok for me. Can it last? Watch this space.